Happy St. Patrick's Day!
If you've ever eaten at Chili's, chances are you've tried their Chicken Enchilada soup. My husband and I ate lunch there for the first time about a month ago. We both ordered the soup and salad lunch special. We took a chance on trying something new. When they sat the bowl of soup down in front of my husband, I couldn't help but laugh out loud. The soup was a bright yellowish-orangish color and it was topped with diced tomatoes. Now...you have to know my husband... if it doesn't look "normal" to him, he's NOT going to eat it. It took some prodding to get him to try it. One spoonful in.... ok...he's not spitting it out. Hey, wait! Is that another spoonful going into his mouth? He LIKES it! I'm shocked! Now it was my turn to try it.... I liked it, too, but I wasn't nearly as dramatic as he was. The combination of chicken, cheese, spices and the crunch of tortillas chips (add them or you will miss something!) made for a great combination.
I was so happy to have another soup to add to my menu at home. After searching through many recipes, I put together one of my own using this-n-that from several recipes. It's a very, very close to the original - in fact, my husband liked mine better because it wasn't quite as thick as the restaurant's version.
So here we go for St. Patrick's Day.... no, not an Irish dish, but it is a beautiful goldish color.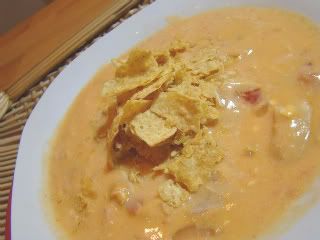 Alongside, I served simple chicken and cheese quesadillas.
MMM! Cheesy!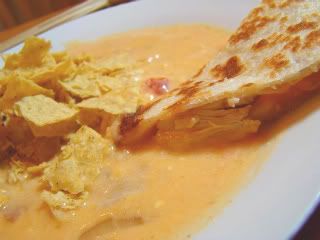 Pot O' Gold Soup (Chicken Enchilada Soup)
1 TBSP oil
1/2 rotisserie chicken, shredded
1/2 cup diced onion
1 TBSP minced garlic
4 C chicken broth
1 C Masa Harina
1 1/2 C hot water
1 can of Rotel tomatoes
1 1/2 C water
1 small can enchilada sauce
2 C. Velveeta cheese. cubed
2 TSP cumin
Top with: corn tortilla chips
Saute diced onion and garlic together until onion is opaque. Stir in chicken broth.
Turn heat to medium/low and continue cooking while you are preparing the rest
of the recipe.
In a large bowl, stir together the masa harina (found near flour in store) and
1 1/2 C. hot water until smooth and no lumps remain. Stir this mixture into
the pot with the onion, garlic and chicken broth. Add Rotel tomatoes.
Stir in remaining 1 1/2 C. water, enchilada sauce, Velveeta and cumin. Add shredded chicken and
bring soup to a boil. Reduce heat and cook 40 minutes or until desired thickness. Stir frequently
to avoid scorching.
Serve in bowls and top with corn tortilla chips.
The soup was a big hit with my whole family. I have to warn you, though, it IS spicy. If you do not want it to be spicy, simply add plain, chopped tomatoes in place of the Rotel tomatoes. Don't leave out the corn tortilla chips. The crunchy chips really add a nice texture to the soup when they are crushed up and stirred in. Enjoy!
We topped our dinner off with Lucky Lemon Lime Drops.
If
you have room for dessert after this meal, these cookies are pretty good. They have a very light lemon-lime taste to them. My husband and kids liked them but I would prefer a stronger lemon-lime taste if I were to make them again.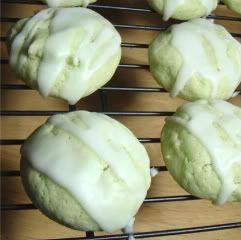 Lucky Lemon Lime Drops
1/2 C. butter
1 C. sugar
1 egg, beaten
1/4 C. lemon juice
1/4 C. lime juice
3 C. flour
4 tsp. baking powder
green paste food coloring
Preheat over to 350*
Cream together butter and sugar until light and fluffy. Beat in lemon and lime juice, and then the egg.
Sift in flour and baking powder. Beat in green food coloring.
Roll into balls about the size of a walnut and place onto an ungreased cookie sheet. Flatten slightly.
Bake for 9 minutes or until very lightly browned. Remove immediately to a cooling rack.
The icing is simply powdered sugar thinned with lemon juice. Drizzle on top of cookies and
allow icing to dry before eating.
Word of warning....!!!!
Don't turn your back on these cookies like I did!! This might happen to you!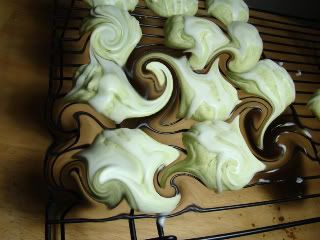 Those darn Leprechauns never miss an opportunity to eat cookies!
Sharing with
The Gooseberry Patch: Round Up for St. Patrick's Day