Geez...sometimes life just gets in the way. I have lots of catching up to do.
Let's start with my recipe for

Crockpot pork chops and gravy
:
12 pork chops --I used the bone-in type because
I got them on sale for a really good price. ;)
1 can cream of mushroom soup
1 can cream of celery soup
1 1/2 C. milk
2 small cans of mushrooms
a splash of Kitchen Bouquet
garlic and onion powder
Whisk together soups and milk. Stir in mushrooms and set aside.
Layer pork chops in crockpot, seasoning the chops with garlic and onion powder. Pour the soup mixture over the chops and cover with the lid. Cook on high for approximately 4 hrs.
Once the chops have fully cooked, remove them-one at a time-from the crockpot , removing any bones. Cover plate with foil to keep them warm until the gravy is ready. Leave the soup mixture in the crockpot.
To make gravy: stir together 3 tablespoons of cornstarch with enough cold water to make a thickener. Stir this into the liquid in the crockpot. Mixture should thicken pretty quickly. If it doesn't you might need to add more of the cornstarch mixture.
**This is where I add a splash of the Kitchen Bouquet to the white gravy to make it brown so that my husband will eat it. He detests any kind of white gravy. Gotta keep 'em happy, ya know?
I served the pork chops with egg noodles and green beans.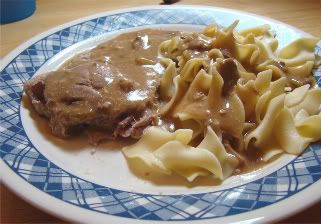 The leftover meat went into the freezer to be used in a stir fry or soup later on.