This is my first time participating in
the Cookie Carnival
! This month's recipe is
Mini Pumpkin Whoopie Pies
.
I've never really been a whoopie pie fan but the thought of chocolate and pumpkin together in this combo intrigued me. I decided to give it a shot. They turned out to be really good. The pumpkin filling and chocolate cake cookie go nicely together. Make sure not to over bake the cookies. Watch them carefully after 8 minutes...mine were done then. To get a nice, creamy filling, I had to beat the filling for a long time. I would double the pumpkin cheesecake filling the next time.
My cookies turned out a little bigger than "mini" but that just means that there's more to enjoy, right?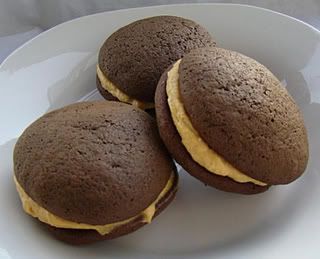 Mini Pumpkin Whoopie Pies
from Martha Stewart

Makes about 20.
INGREDIENTS FOR THE COOKIES:
* 1 3/4 cups all-purpose flour
* 3/4 cup unsweetened cocoa powder (not Dutch-process)
* 1 1/2 teaspoons baking soda
* 1/2 teaspoon coarse salt
* 1 tablespoon unsalted butter, softened
* 1/4 cup vegetable shortening
* 1/2 cup granulated sugar
* 1/2 cup packed dark-brown sugar
* 1 large egg
* 1 cup whole milk
* 1 teaspoon pure vanilla extract


INGREDIENTS FOR THE FILLING:


* 4 ounces cream cheese, at room temperature
* 1/2 cup (1 stick) unsalted butter, at room temperature
* 1/2 cup confectioners' sugar
* 1/4 cup canned solid pack pumpkin
* Pinch of cinnamon
* Pinch of nutmeg


DIRECTIONS:

1. Prepare cookies: Preheat oven to 375 degrees. Sift together flour, cocoa powder, baking soda, and salt into a medium bowl; set aside.

2. Place butter, shortening, and sugars into the bowl of an electric mixer fitted with the paddle attachment. Mix on high speed until smooth, about 3 minutes. Add egg; mix until pale and fluffy, about 2 minutes. Mix in half the flour mixture, then the milk and vanilla. Mix in remaining flour mixture.

3. Drop about 2 teaspoons dough onto baking sheets lined with parchment paper, spacing 2 inches apart. Bake until cookies spring back when lightly touched, 12 to 14 minutes. Transfer baking sheets to wire racks and let cool 10 minutes. Remove cookies from baking sheets and transfer to wire racks using a spatula; let cool completely.

4. Prepare filling: In the bowl of a mixer fitted with the paddle attachment, whip together cream cheese, butter and confectioners' sugar on medium speed until smooth, about 3 minutes. Add pumpkin, cinnamon, and nutmeg; whip until smooth, scraping down the bowl as necessary.

5. Pipe or spoon about 2 teaspoons filling on the flat sides of half the cookies. Sandwich with remaining cookies, keeping the flat sides down.