My kids and I usually break out the popcorn for movie nights. Holding true with our tradition, we decided to make some popcorn before our movie on Saturday night. Because it was rather late, we decided on microwave popcorn instead of popping our own.
For an extra sweet treat, we decided to make a quick version of chocolate covered popcorn. You have a choice when you make this... to either use plain popcorn or butter flavored popcorn. The latter happens to be my favorite.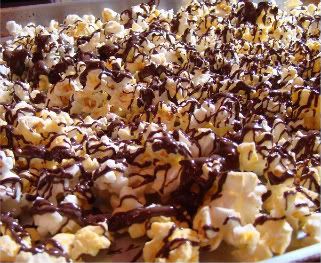 If you've never tried chocolate covered popcorn, you don't know what you're missing!
This version is quick and easy....
Pop 1 bag of butter flavored popcorn.
Spread the popcorn out on a baking sheet.
Melt 2-3 squares of almond bark the microwave.
Using a fork, drizzle the chocolate all over the popcorn.
Either leave the tray on the table for the chocolate to air dry or pop the tray into the freezer for 2 minutes. (Of course, we did the latter! We didn't want to wait.)
You can make this ahead of time and store it in plastic Ziploc bags.
It's great for gift-giving, too!
MMM!! Delicious!