My
Bookmarked Recipe
for this week is
Upside-Down Strawberry Shortcake
from Taste of Home.
Although I found it in one of their magazines, it can be found online
here
.
This cake was super simple to make and really, really good. I whipped this up this morning while waiting on the maintenance guys who were coming to check out our furnace. The cake would be equally delicious, I'm sure, made with blackberries, raspberries, peaches...ect. I'm going to try it with blackberries the next time. Yum!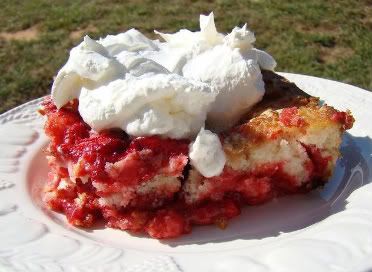 Ingredients:
1 cup miniature marshmallows
1 package (16 ounces) frozen sweetened sliced strawberries, thawed
1 package (3 ounces) strawberry gelatin
1/2 cup shortening
1-1/2 cups sugar
3 eggs
1 teaspoon vanilla extract
2-1/4 cups all-purpose flour
3 teaspoons baking powder
1/2 teaspoon salt
1 cup milk
Fresh strawberries and whipped cream

Directions:
Sprinkle marshmallows evenly into a greased 13-in. x 9-in. baking dish; set aside. In a small bowl, combine strawberries and gelatin powder; set aside. In a large mixing bowl, cream shortening and sugar until light and fluffy. Add the eggs, one at a time, beating well after each addition. Beat in vanilla. Combine flour, baking powder and salt; add to creamed mixture alternately with milk, beating well after each addition. Pour batter over the marshmallows. Spoon strawberry mixture evenly over batter. Bake at 350° for 45-50 minutes or until a toothpick inserted near the center comes out clean. Cool on a wire rack. Cut into squares. Garnish with strawberries and whipped cream. Yield: 12-16 servings.

The changes that I made to the recipe:
I halved the recipe and baked the cake in a 9x9 pan.

I used unsweetened frozen strawberries + sugar-free Jello. This was plenty sweet enough this way.

I topped it with Cool Whip instead of fresh whipped cream.

The cake baked for 47 minutes.

Enjoy!